April 2005
Subscribe
in his own country where some 18.9 million vehi- cles are currently on the road. About 6.5% or 1.2 million vehicles are scrapped each year, of which around 80% are processed to reclaim scrap metals. Plastics, glass and interior components a...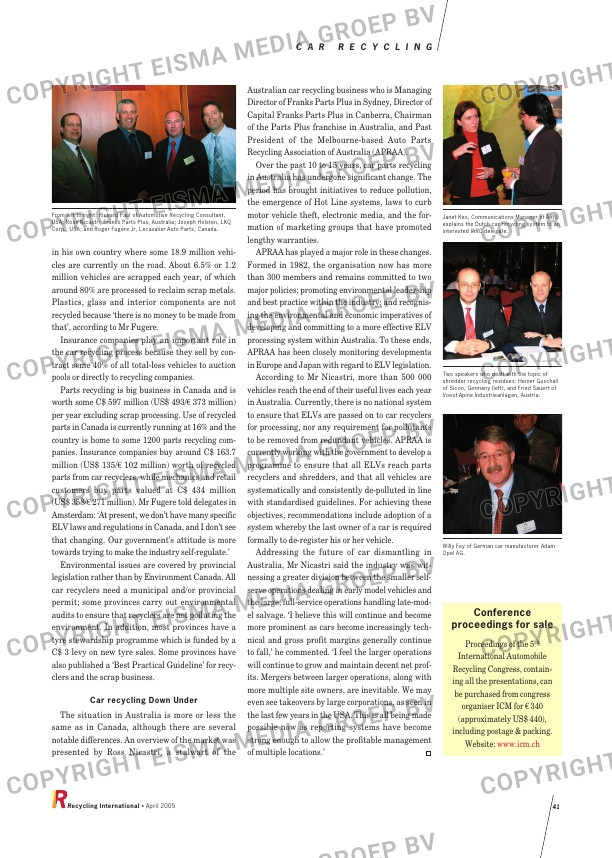 in his own country where some 18.9 million vehi-
cles are currently on the road. About 6.5% or 1.2
million vehicles are scrapped each year, of which
around 80% are processed to reclaim scrap metals.
Plastics, glass and interior components are not
recycled because 'there is no money to be made from
that', according to Mr Fugere.
Insurance companies play an important role in
the car recycling process because they sell by con-
tract some 40% of all total-loss vehicles to auction
pools or directly to recycling companies.
Parts recycling is big business in Canada and is
worth some C$ 597 million (US$ 493/€ 373 million)
per year excluding scrap processing. Use of recycled
parts in Canada is currently running at 16% and the
country is home to some 1200 parts recycling com-
panies. Insurance companies buy around C$ 163.7
million (US$ 135/€ 102 million) worth of recycled
parts from car recyclers, while mechanics and retail
customers buy parts valued at C$ 434 million
(US$ 358/€ 271 million). Mr Fugere told delegates in
Amsterdam: 'At present, we don't have many specific
ELV laws and regulations in Canada, and I don't see
that changing. Our government's attitude is more
towards trying to make the industry self-regulate.'
Environmental issues are covered by provincial
legislation rather than by Environment Canada. All
car recyclers need a municipal and/or provincial
permit; some provinces carry out environmental
audits to ensure that recyclers are not polluting the
environment. In addition, most provinces have a
tyre stewardship programme which is funded by a
C$ 3 levy on new tyre sales. Some provinces have
also published a 'Best Practical Guideline' for recy-
clers and the scrap business.
Car recycling Down Under

The situation in Australia is more or less the
same as in Canada, although there are several
notable differences. An overview of the market was
presented by Ross Nicastri, a stalwart of the
Australian car recycling business who is Managing
Director of Franks Parts Plus in Sydney, Director of
Capital Franks Parts Plus in Canberra, Chairman
of the Parts Plus franchise in Australia, and Past
President of the Melbourne-based Auto Parts
Recycling Association of Australia (APRAA).
Over the past 10 to 15 years, car parts recycling
in Australia has undergone significant change. The
period has brought initiatives to reduce pollution,
the emergence of Hot Line systems, laws to curb
motor vehicle theft, electronic media, and the for-
mation of marketing groups that have promoted
lengthy warranties.
APRAA has played a major role in these changes.
Formed in 1982, the organisation now has more
than 300 members and remains committed to two
major policies: promoting environmental leadership
and best practice within the industry; and recognis-
ing the environmental and economic imperatives of
developing and committing to a more effective ELV
processing system within Australia. To these ends,
APRAA has been closely monitoring developments
in Europe and Japan with regard to ELV legislation.
According to Mr Nicastri, more than 500 000
vehicles reach the end of their useful lives each year
in Australia. Currently, there is no national system
to ensure that ELVs are passed on to car recyclers
for processing, nor any requirement for pollutants
to be removed from redundant vehicles. APRAA is
currently working with the government to develop a
programme to ensure that all ELVs reach parts
recyclers and shredders, and that all vehicles are
systematically and consistently de-polluted in line
with standardised guidelines. For achieving these
objectives, recommendations include adoption of a
system whereby the last owner of a car is required
formally to de-register his or her vehicle.
Addressing the future of car dismantling in
Australia, Mr Nicastri said the industry was wit-
nessing a greater division between the smaller self-
serve operations dealing in early model vehicles and
the large, full-service operations handling late-mod-
el salvage. 'I believe this will continue and become
more prominent as cars become increasingly tech-
nical and gross profit margins generally continue
to fall,' he commented. 'I feel the larger operations
will continue to grow and maintain decent net prof-
its. Mergers between larger operations, along with
more multiple site owners, are inevitable. We may
even see takeovers by large corporations, as seen in
the last few years in the USA. This is all being made
possible now as reporting systems have become
strong enough to allow the profitable management
of multiple locations.'
C A R R E C Y C L I N G

Recycling International • April 2005 41

Conference
proceedings for sale

Proceedings of the 5th
International Automobile
Recycling Congress, contain-
ing all the presentations, can
be purchased from congress
organiser ICM for € 340
(approximately US$ 440),
including postage & packing.
Website: www.icm.ch
From left to right: Richard Paul of Automotive Recycling Consultant,
USA; Ross Nicastri, Franks Parts Plus, Australia; Joseph Holsten, LKQ
Corp., USA; and Roger Fugere Jr, Lecavalier Auto Parts, Canada.
Janet Kes, Communications Manager of ARN,
explains the Dutch car recycling system to an
interested IARC delegate.
Willy Fey of German car manufacturer Adam
Opel AG.
Two speakers who dealt with the topic of
shredder recycling residues: Heiner Guschall
of Sicon, Germany (left), and Fried Sauert of
Voest Apine Industrieanlagen, Austria.