April 2005
Subscribe
V I E W P O I N T I began my trip to China by staying at the City Hotel in downtown Shanghai. On my first evening there, I took a stroll around the old town. The streets were very busy, shops were open and the wonderful smell of Chinese fo...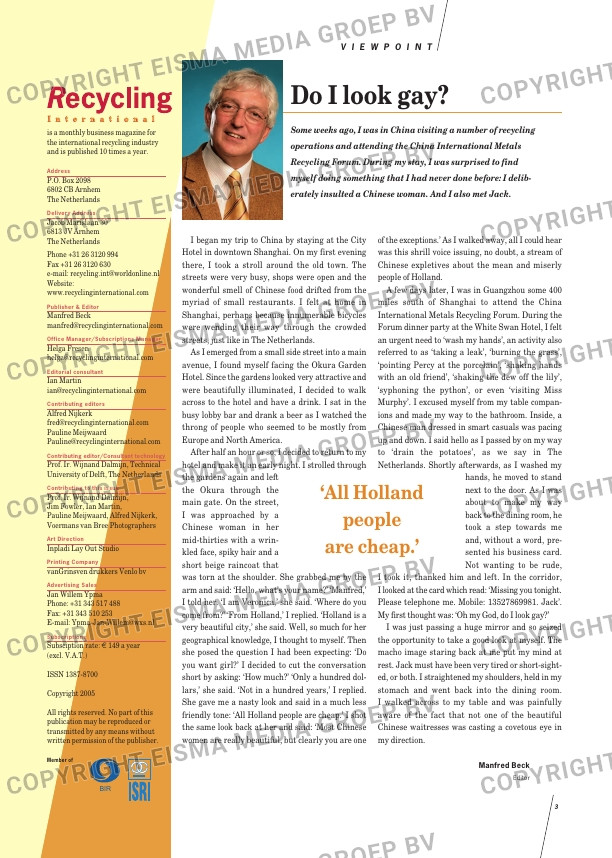 V I E W P O I N T

I began my trip to China by staying at the City
Hotel in downtown Shanghai. On my first evening
there, I took a stroll around the old town. The
streets were very busy, shops were open and the
wonderful smell of Chinese food drifted from the
myriad of small restaurants. I felt at home in
Shanghai, perhaps because innumerable bicycles
were wending their way through the crowded
streets, just like in The Netherlands.
As I emerged from a small side street into a main
avenue, I found myself facing the Okura Garden
Hotel. Since the gardens looked very attractive and
were beautifully illuminated, I decided to walk
across to the hotel and have a drink. I sat in the
busy lobby bar and drank a beer as I watched the
throng of people who seemed to be mostly from
Europe and North America.
After half an hour or so, I decided to return to my
hotel and make it an early night. I strolled through
the gardens again and left
the Okura through the
main gate. On the street,
I was approached by a
Chinese woman in her
mid-thirties with a wrin-
kled face, spiky hair and a
short beige raincoat that
was torn at the shoulder. She grabbed me by the
arm and said: 'Hello, what's your name?' 'Manfred,'
I told her. 'I am Veronica,' she said. 'Where do you
come from?' 'From Holland,' I replied. 'Holland is a
very beautiful city,' she said. Well, so much for her
geographical knowledge, I thought to myself. Then
she posed the question I had been expecting: 'Do
you want girl?' I decided to cut the conversation
short by asking: 'How much?' 'Only a hundred dol-
lars,' she said. 'Not in a hundred years,' I replied.
She gave me a nasty look and said in a much less
friendly tone: 'All Holland people are cheap.' I shot
the same look back at her and said: 'Most Chinese
women are really beautiful, but clearly you are one
of the exceptions.' As I walked away, all I could hear
was this shrill voice issuing, no doubt, a stream of
Chinese expletives about the mean and miserly
people of Holland.
A few days later, I was in Guangzhou some 400
miles south of Shanghai to attend the China
International Metals Recycling Forum. During the
Forum dinner party at the White Swan Hotel, I felt
an urgent need to 'wash my hands', an activity also
referred to as 'taking a leak', 'burning the grass',
'pointing Percy at the porcelain', 'shaking hands
with an old friend', 'shaking the dew off the lily',
'syphoning the python', or even 'visiting Miss
Murphy'. I excused myself from my table compan-
ions and made my way to the bathroom. Inside, a
Chinese man dressed in smart casuals was pacing
up and down. I said hello as I passed by on my way
to 'drain the potatoes', as we say in The
Netherlands. Shortly afterwards, as I washed my
hands, he moved to stand
next to the door. As I was
about to make my way
back to the dining room, he
took a step towards me
and, without a word, pre-
sented his business card.
Not wanting to be rude,
I took it, thanked him and left. In the corridor,
I looked at the card which read: 'Missing you tonight.
Please telephone me. Mobile: 13527869981. Jack'.
My first thought was: 'Oh my God, do I look gay?'
I was just passing a huge mirror and so seized
the opportunity to take a good look at myself. The
macho image staring back at me put my mind at
rest. Jack must have been very tired or short-sight-
ed, or both. I straightened my shoulders, held in my
stomach and went back into the dining room.
I walked across to my table and was painfully
aware of the fact that not one of the beautiful
Chinese waitresses was casting a covetous eye in
my direction.
is a monthly business magazine for
the international recycling industry
and is published 10 times a year.
Address

P.O. Box 2098
6802 CB Arnhem
The Netherlands
Delivery Address

Jacob Marislaan 30
6813 JV Arnhem
The Netherlands
Phone +31 26 3120 994
Fax +31 26 3120 630
e-mail: [email protected]
Website:
www.recyclinginternational.com
Publisher & Editor

Manfred Beck
[email protected]
Office Manager/Subscriptions Manager

Helga Fresen
[email protected]
Editorial consultant

Ian Martin
[email protected]
Contributing editors

Alfred Nijkerk
[email protected]
Pauline Meijwaard
[email protected]
Contributing editor/Consultant technology

Prof. Ir. Wijnand Dalmijn, Technical
University of Delft, The Netherlands
Contributing to this issue

Prof. Ir. Wijnand Dalmijn,
Jim Fowler, Ian Martin,
Pauline Meijwaard, Alfred Nijkerk,
Voermans van Bree Photographers
Art Direction

Inpladi Lay Out Studio
Printing Company

vanGrinsven drukkers Venlo bv
Advertising Sales

Jan Willem Ypma
Phone: +31 343 517 488
Fax: +31 343 510 253
E-mail: [email protected]
Subscriptions

Subsciption rate: € 149 a year
(excl. V.A.T.)
ISSN 1387-8700
Copyright 2005
All rights reserved. No part of this
publication may be reproduced or
transmitted by any means without
written permission of the publisher.
Member of

3

Manfred Beck
Editor
Some weeks ago, I was in China visiting a number of recycling

operations and attending the China International Metals

Recycling Forum. During my stay, I was surprised to find

myself doing something that I had never done before: I delib-

erately insulted a Chinese woman. And I also met Jack.

Do I look gay?

'All Holland
people

are cheap.'

BIR