April 2005
Subscribe
company over a series of five years if the person con- tinues as an employee. Many people have told us that, without this loan for a down-payment, they would not have been able to purchase a home.' The social face of the company also ref...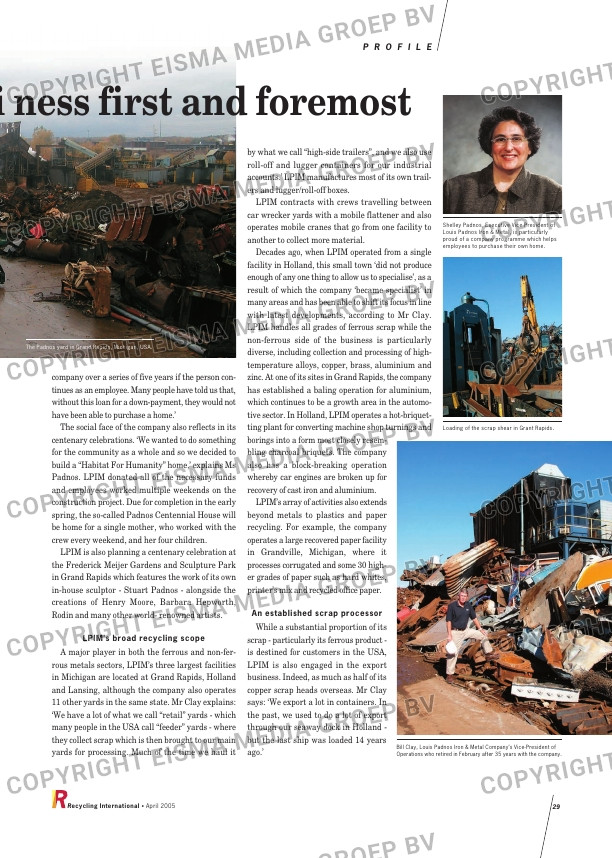 company over a series of five years if the person con-
tinues as an employee. Many people have told us that,
without this loan for a down-payment, they would not
have been able to purchase a home.'
The social face of the company also reflects in its
centenary celebrations. 'We wanted to do something
for the community as a whole and so we decided to
build a "Habitat For Humanity" home,' explains Ms
Padnos. LPIM donated all of the necessary funds
and employees worked multiple weekends on the
construction project. Due for completion in the early
spring, the so-called Padnos Centennial House will
be home for a single mother, who worked with the
crew every weekend, and her four children.
LPIM is also planning a centenary celebration at
the Frederick Meijer Gardens and Sculpture Park
in Grand Rapids which features the work of its own
in-house sculptor – Stuart Padnos – alongside the
creations of Henry Moore, Barbara Hepworth,
Rodin and many other world- renowned artists.
LPIM's broad recycling scope

A major player in both the ferrous and non-fer-
rous metals sectors, LPIM's three largest facilities
in Michigan are located at Grand Rapids, Holland
and Lansing, although the company also operates
11 other yards in the same state. Mr Clay explains:
'We have a lot of what we call "retail" yards – which
many people in the USA call "feeder" yards – where
they collect scrap which is then brought to our main
yards for processing. Much of the time we haul it
by what we call "high-side trailers", and we also use
roll-off and lugger containers for our industrial
accounts.' LPIM manufactures most of its own trail-
ers and lugger/roll-off boxes.
LPIM contracts with crews travelling between
car wrecker yards with a mobile flattener and also
operates mobile cranes that go from one facility to
another to collect more material.
Decades ago, when LPIM operated from a single
facility in Holland, this small town 'did not produce
enough of any one thing to allow us to specialise', as a
result of which the company 'became specialist' in
many areas and has been able to shift its focus in line
with latest developments, according to Mr Clay.
LPIM handles all grades of ferrous scrap while the
non-ferrous side of the business is particularly
diverse, including collection and processing of high-
temperature alloys, copper, brass, aluminium and
zinc. At one of its sites in Grand Rapids, the company
has established a baling operation for aluminium,
which continues to be a growth area in the automo-
tive sector. In Holland, LPIM operates a hot-briquet-
ting plant for converting machine shop turnings and
borings into a form most closely resem-
bling charcoal briquets. The company
also has a block-breaking operation
whereby car engines are broken up for
recovery of cast iron and aluminium.
LPIM's array of activities also extends
beyond metals to plastics and paper
recycling. For example, the company
operates a large recovered paper facility
in Grandville, Michigan, where it
processes corrugated and some 30 high-
er grades of paper such as hard whites,
printer's mix and recycled office paper.
An established scrap processor

While a substantial proportion of its
scrap – particularly its ferrous product –
is destined for customers in the USA,
LPIM is also engaged in the export
business. Indeed, as much as half of its
copper scrap heads overseas. Mr Clay
says: 'We export a lot in containers. In
the past, we used to do a lot of export
through our seaway dock in Holland –
but the last ship was loaded 14 years
ago.'
Recycling International • April 2005 29

P R O F I L E

Shelley Padnos, Executive Vice-President of
Louis Padnos Iron & Metal, is particularly
proud of a company programme which helps
employees to purchase their own home.
i ness first and foremost

The Padnos yard in Grand Rapids, Michigan, USA.
Bill Clay, Louis Padnos Iron & Metal Company's Vice-President of
Operations who retired in February after 35 years with the company.
Loading of the scrap shear in Grant Rapids.