April 2005
Subscribe
T he 2 nd China International Metal Recycling Forum held early last month in Guangzhou was a big success. Around 430 metal recyclers found their way to the Forum, some 200 more than in November 2003 when the first Forum had been held. Th...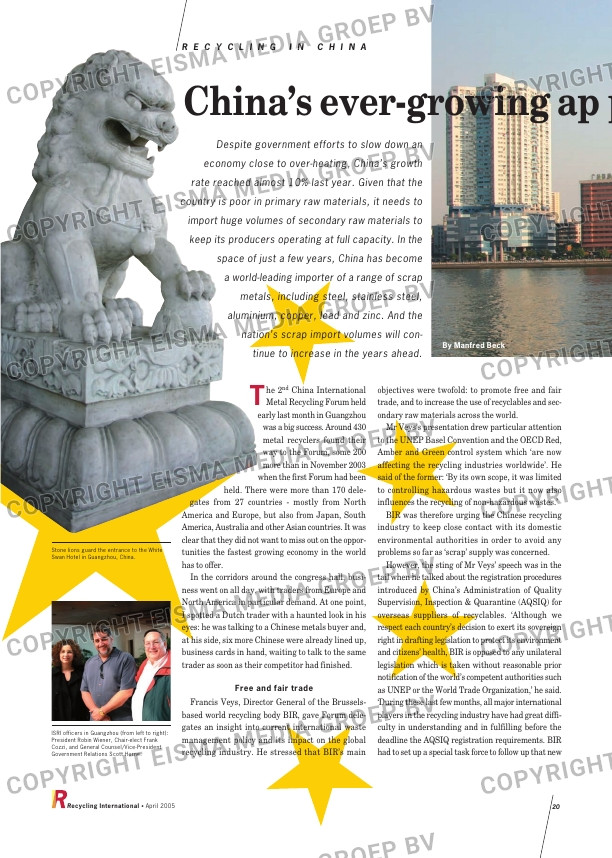 T he 2
nd China International
Metal Recycling Forum held
early last month in Guangzhou
was a big success. Around 430
metal recyclers found their
way to the Forum, some 200
more than in November 2003
when the first Forum had been
held. There were more than 170 dele-
gates from 27 countries – mostly from North
America and Europe, but also from Japan, South
America, Australia and other Asian countries. It was
clear that they did not want to miss out on the oppor-
tunities the fastest growing economy in the world
has to offer.
In the corridors around the congress hall, busi-
ness went on all day, with traders from Europe and
North America in particular demand. At one point,
I spotted a Dutch trader with a haunted look in his
eyes: he was talking to a Chinese metals buyer and,
at his side, six more Chinese were already lined up,
business cards in hand, waiting to talk to the same
trader as soon as their competitor had finished.
Free and fair trade

Francis Veys, Director General of the Brussels-
based world recycling body BIR, gave Forum dele-
gates an insight into current international waste
management policy and its impact on the global
recycling industry. He stressed that BIR's main
objectives were twofold: to promote free and fair
trade, and to increase the use of recyclables and sec-
ondary raw materials across the world.
Mr Veys's presentation drew particular attention
to the UNEP Basel Convention and the OECD Red,
Amber and Green control system which 'are now
affecting the recycling industries worldwide'. He
said of the former: 'By its own scope, it was limited
to controlling hazardous wastes but it now also
influences the recycling of non-hazardous wastes.'
BIR was therefore urging the Chinese recycling
industry to keep close contact with its domestic
environmental authorities in order to avoid any
problems so far as 'scrap' supply was concerned.
However, the sting of Mr Veys' speech was in the
tail when he talked about the registration procedures
introduced by China's Administration of Quality
Supervision, Inspection & Quarantine (AQSIQ) for
overseas suppliers of recyclables. 'Although we
respect each country's decision to exert its sovereign
right in drafting legislation to protect its environment
and citizens' health, BIR is opposed to any unilateral
legislation which is taken without reasonable prior
notification of the world's competent authorities such
as UNEP or the World Trade Organization,' he said.
'During these last few months, all major international
players in the recycling industry have had great diffi-
culty in understanding and in fulfilling before the
deadline the AQSIQ registration requirements. BIR
had to set up a special task force to follow up that new
Recycling International • April 2005 20

R E C Y C L I N G I N C H I N A

China's ever-growing ap p
Despite government efforts to slow down an

economy close to over-heating, China's growth

rate reached almost 10% last year. Given that the

country is poor in primary raw materials, it needs to

import huge volumes of secondary raw materials to

keep its producers operating at full capacity. In the

space of just a few years, China has become

a world-leading importer of a range of scrap

metals, including steel, stainless steel,

aluminium, copper, lead and zinc. And the

nation's scrap import volumes will con-

tinue to increase in the years ahead.

ISRI officers in Guangzhou (from left to right):
President Robin Wiener, Chair-elect Frank
Cozzi, and General Counsel/Vice-President
Government Relations Scott Horne.
Stone lions guard the entrance to the White
Swan Hotel in Guangzhou, China.
By Manfred Beck