April 2005
Subscribe
passed. This provision is contin- gent upon the EPA Administrator finding that a majority of US households have reasonable access to e-waste recycling; • Modify the EPA's Universal Waste Rule to classify display screens and system unit...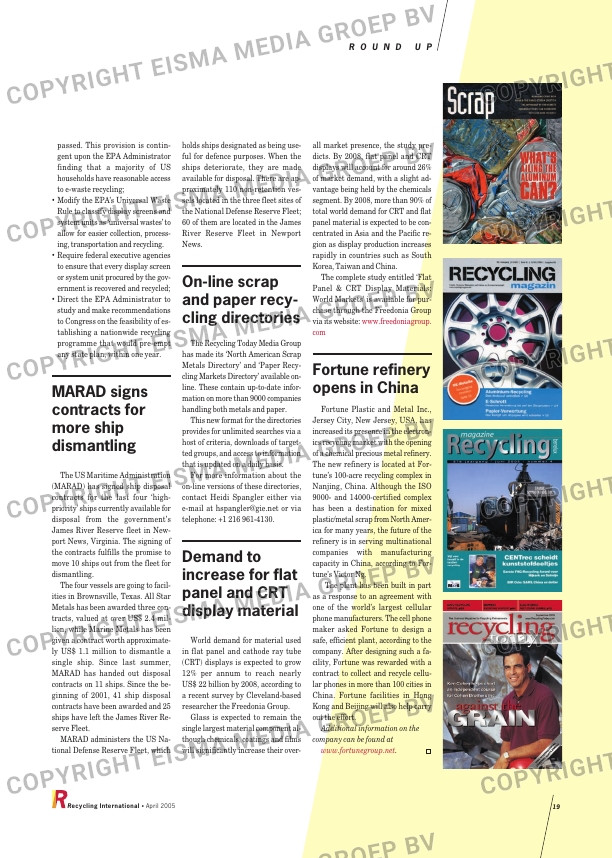 passed. This provision is contin-
gent upon the EPA Administrator
finding that a majority of US
households have reasonable access
to e-waste recycling;
• Modify the EPA's Universal Waste
Rule to classify display screens and
system units as 'universal wastes' to
allow for easier collection, process-
ing, transportation and recycling.
• Require federal executive agencies
to ensure that every display screen
or system unit procured by the gov-
ernment is recovered and recycled;
• Direct the EPA Administrator to
study and make recommendations
to Congress on the feasibility of es-
tablishing a nationwide recycling
programme that would pre-empt
any state plan, within one year.
MARAD signs
contracts for
more ship
dismantling

The US Maritime Administration
(MARAD) has signed ship disposal
contracts for the last four 'high-
priority' ships currently available for
disposal from the government's
James River Reserve fleet in New-
port News, Virginia. The signing of
the contracts fulfills the promise to
move 10 ships out from the fleet for
dismantling.
The four vessels are going to facil-
ities in Brownsville, Texas. All Star
Metals has been awarded three con-
tracts, valued at over US$ 2.4 mil-
lion, while Marine Metals has been
given a contract worth approximate-
ly US$ 1.1 million to dismantle a
single ship. Since last summer,
MARAD has handed out disposal
contracts on 11 ships. Since the be-
ginning of 2001, 41 ship disposal
contracts have been awarded and 25
ships have left the James River Re-
serve Fleet.
MARAD administers the US Na-
tional Defense Reserve Fleet, which
holds ships designated as being use-
ful for defence purposes. When the
ships deteriorate, they are made
available for disposal. There are ap-
proximately 110 non-retention ves-
sels located in the three fleet sites of
the National Defense Reserve Fleet;
60 of them are located in the James
River Reserve Fleet in Newport
News.
On-line scrap
and paper recy-
cling directories

The Recycling Today Media Group
has made its 'North American Scrap
Metals Directory' and 'Paper Recy-
cling Markets Directory' available on-
line. These contain up-to-date infor-
mation on more than 9000 companies
handling both metals and paper.
This new format for the directories
provides for unlimited searches via a
host of criteria, downloads of target-
ted groups, and access to information
that is updated on a daily basis.
For more information about the
on-line versions of these directories,
contact Heidi Spangler either via
e-mail at [email protected] or via
telephone: +1 216 961-4130.
Demand to
increase for flat
panel and CRT
display material

World demand for material used
in flat panel and cathode ray tube
(CRT) displays is expected to grow
12% per annum to reach nearly
US$ 22 billion by 2008, according to
a recent survey by Cleveland-based
researcher the Freedonia Group.
Glass is expected to remain the
single largest material component al-
though chemicals, coatings and films
will significantly increase their over-
all market presence, the study pre-
dicts. By 2008, flat panel and CRT
displays will account for around 26%
of market demand, with a slight ad-
vantage being held by the chemicals
segment. By 2008, more than 90% of
total world demand for CRT and flat
panel material is expected to be con-
centrated in Asia and the Pacific re-
gion as display production increases
rapidly in countries such as South
Korea, Taiwan and China.
The complete study entitled 'Flat
Panel & CRT Display Materials:
World Markets' is available for pur-
chase through the Freedonia Group
via its website: www.freedoniagroup.
com
Fortune refinery
opens in China

Fortune Plastic and Metal Inc.,
Jersey City, New Jersey, USA, has
increased its presence in the electron-
ics recycling market with the opening
of a chemical precious metal refinery.
The new refinery is located at For-
tune's 100-acre recycling complex in
Nanjing, China. Although the ISO
9000- and 14000-certified complex
has been a destination for mixed
plastic/metal scrap from North Amer-
ica for many years, the future of the
refinery is in serving multinational
companies with manufacturing
capacity in China, according to For-
tune's Victor Ng.
The plant has been built in part
as a response to an agreement with
one of the world's largest cellular
phone manufacturers. The cell phone
maker asked Fortune to design a
safe, efficient plant, according to the
company. After designing such a fa-
cility, Fortune was rewarded with a
contract to collect and recycle cellu-
lar phones in more than 100 cities in
China. Fortune facilities in Hong
Kong and Beijing will also help carry
out the effort.
Additional information on the
company can be found at

www.fortunegroup.net.

R O U N D U P

Recycling International • April 2005 19