April 2005
Subscribe
Shippers recommend higher freight rates Shipping lines within the Califor- nia-based Westbound Transpacific Stabilization Agreement (WTSA) have recommended freight rate in- creases for metal scrap destined for Asia of at least US$ 100 for...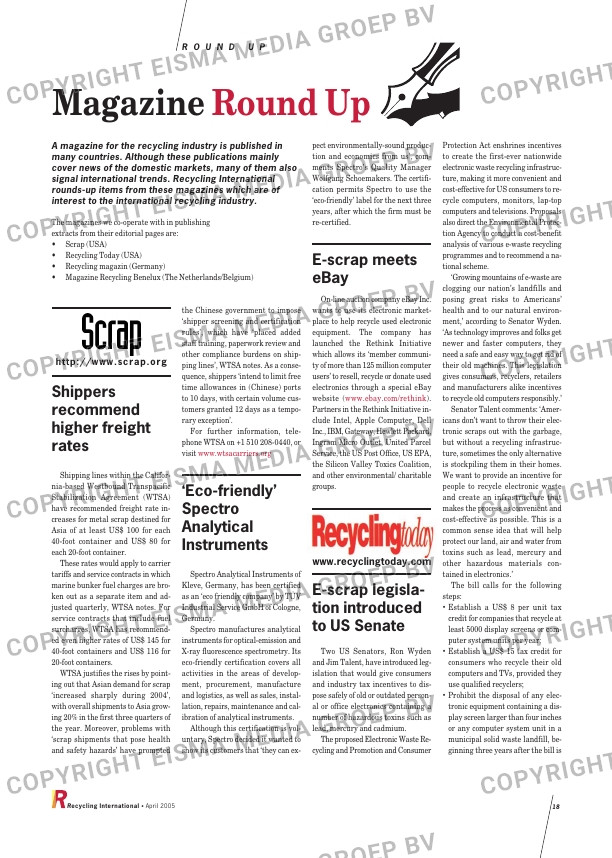 Shippers
recommend
higher freight
rates

Shipping lines within the Califor-
nia-based Westbound Transpacific
Stabilization Agreement (WTSA)
have recommended freight rate in-
creases for metal scrap destined for
Asia of at least US$ 100 for each
40-foot container and US$ 80 for
each 20-foot container.
These rates would apply to carrier
tariffs and service contracts in which
marine bunker fuel charges are bro-
ken out as a separate item and ad-
justed quarterly, WTSA notes. For
service contracts that include fuel
surcharges, WTSA has recommend-
ed even higher rates of US$ 145 for
40-foot containers and US$ 116 for
20-foot containers.
WTSA justifies the rises by point-
ing out that Asian demand for scrap
'increased sharply during 2004',
with overall shipments to Asia grow-
ing 20% in the first three quarters of
the year. Moreover, problems with
'scrap shipments that pose health
and safety hazards' have prompted
the Chinese government to impose
'shipper screening and certification
rules', which have 'placed added
staff training, paperwork review and
other compliance burdens on ship-
ping lines', WTSA notes. As a conse-
quence, shippers 'intend to limit free
time allowances in (Chinese) ports
to 10 days, with certain volume cus-
tomers granted 12 days as a tempo-
rary exception'.
For further information, tele-
phone WTSA on +1 510 208-0440, or
visit www.wtsacarriers.org
'Eco-friendly'
Spectro
Analytical
Instruments

Spectro Analytical Instruments of
Kleve, Germany, has been certified
as an 'eco friendly company' by TÜV
Industrial Service GmbH of Cologne,
Germany.
Spectro manufactures analytical
instruments for optical-emission and
X-ray fluorescence spectrometry. Its
eco-friendly certification covers all
activities in the areas of develop-
ment, procurement, manufacture
and logistics, as well as sales, instal-
lation, repairs, maintenance and cal-
ibration of analytical instruments.
Although this certification is vol-
untary, Spectro decided it wanted to
show its customers that 'they can ex-
pect environmentally-sound produc-
tion and economics from us', com-
ments Spectro's Quality Manager
Wolfgang Schoemakers. The certifi-
cation permits Spectro to use the
'eco-friendly' label for the next three
years, after which the firm must be
re-certified.
E-scrap meets
eBay

On-line auction company eBay Inc.
wants to use its electronic market-
place to help recycle used electronic
equipment. The company has
launched the Rethink Initiative
which allows its 'member communi-
ty of more than 125 million computer
users' to resell, recycle or donate used
electronics through a special eBay
website (www.ebay.com/rethink).
Partners in the Rethink Initiative in-
clude Intel, Apple Computer, Dell
Inc., IBM, Gateway, Hewlett Packard,
Ingram Micro Outlet, United Parcel
Service, the US Post Office, US EPA,
the Silicon Valley Toxics Coalition,
and other environmental/ charitable
groups.
E-scrap legisla-
tion introduced
to US Senate

Two US Senators, Ron Wyden
and Jim Talent, have introduced leg-
islation that would give consumers
and industry tax incentives to dis-
pose safely of old or outdated person-
al or office electronics containing a
number of hazardous toxins such as
lead, mercury and cadmium.
The proposed Electronic Waste Re-
cycling and Promotion and Consumer
Protection Act enshrines incentives
to create the first-ever nationwide
electronic waste recycling infrastruc-
ture, making it more convenient and
cost-effective for US consumers to re-
cycle computers, monitors, lap-top
computers and televisions. Proposals
also direct the Environmental Protec-
tion Agency to conduct a cost-benefit
analysis of various e-waste recycling
programmes and to recommend a na-
tional scheme.
'Growing mountains of e-waste are
clogging our nation's landfills and
posing great risks to Americans'
health and to our natural environ-
ment,' according to Senator Wyden.
'As technology improves and folks get
newer and faster computers, they
need a safe and easy way to get rid of
their old machines. This legislation
gives consumers, recyclers, retailers
and manufacturers alike incentives
to recycle old computers responsibly.'
Senator Talent comments: 'Amer-
icans don't want to throw their elec-
tronic scraps out with the garbage,
but without a recycling infrastruc-
ture, sometimes the only alternative
is stockpiling them in their homes.
We want to provide an incentive for
people to recycle electronic waste
and create an infrastructure that
makes the process as convenient and
cost-effective as possible. This is a
common sense idea that will help
protect our land, air and water from
toxins such as lead, mercury and
other hazardous materials con-
tained in electronics.'
The bill calls for the following
steps:
• Establish a US$ 8 per unit tax
credit for companies that recycle at
least 5000 display screens or com-
puter system units per year;
• Establish a US$ 15 tax credit for
consumers who recycle their old
computers and TVs, provided they
use qualified recyclers;
• Prohibit the disposal of any elec-
tronic equipment containing a dis-
play screen larger than four inches
or any computer system unit in a
municipal solid waste landfill, be-
ginning three years after the bill is
www.recyclingtoday.com

A magazine for the recycling industry is published in
many countries. Although these publications mainly
cover news of the domestic markets, many of them also
signal international trends. Recycling International
rounds-up items from these magazines which are of
interest to the international recycling industry.

The magazines we co-operate with in publishing
extracts from their editorial pages are:
• Scrap (USA)
• Recycling Today (USA)
• Recycling magazin (Germany)
• Magazine Recycling Benelux (The Netherlands/Belgium)
R O U N D U P

Magazine Round Up

http://www.scrap.org

Recycling International • April 2005 18