April 2005
Subscribe
N E W S Recycling International • April 2005 13 * Harris Waste Management Harris Waste Management Group Inc. of Peachtree City, Georgia, USA, has sold an HS 80115 shredding plant to Tri-State Iron & Metal Co. of Texarkana, Arkansa...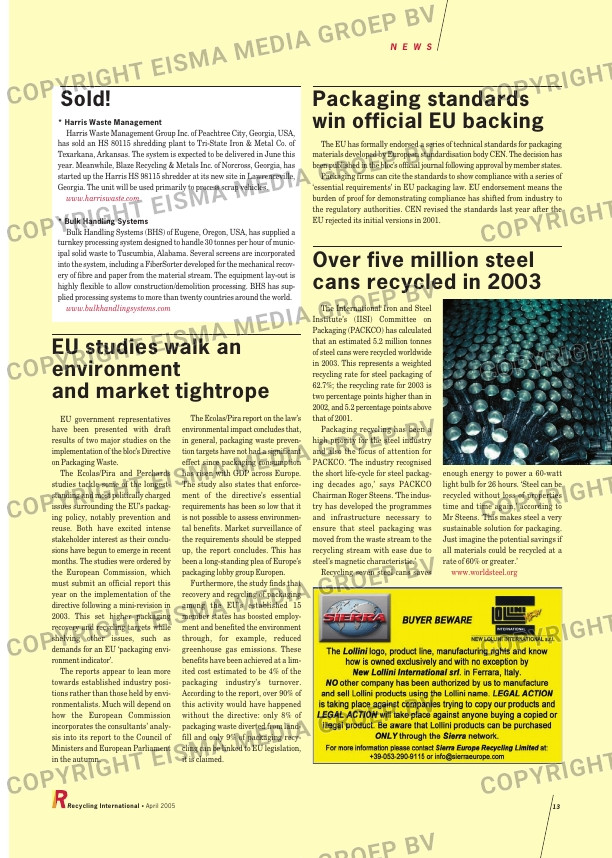 N E W S

Recycling International • April 2005 13

* Harris Waste Management
Harris Waste Management Group Inc. of Peachtree City, Georgia, USA,
has sold an HS 80115 shredding plant to Tri-State Iron & Metal Co. of
Texarkana, Arkansas. The system is expected to be delivered in June this
year. Meanwhile, Blaze Recycling & Metals Inc. of Norcross, Georgia, has
started up the Harris HS 98115 shredder at its new site in Lawrenceville,
Georgia. The unit will be used primarily to process scrap vehicles.
www.harriswaste.com

* Bulk Handling Systems
Bulk Handling Systems (BHS) of Eugene, Oregon, USA, has supplied a
turnkey processing system designed to handle 30 tonnes per hour of munic-
ipal solid waste to Tuscumbia, Alabama. Several screens are incorporated
into the system, including a FiberSorter developed for the mechanical recov-
ery of fibre and paper from the material stream. The equipment lay-out is
highly flexible to allow construction/demolition processing. BHS has sup-
plied processing systems to more than twenty countries around the world.
www.bulkhandlingsystems.com

Sold! Packaging standards
win official EU backing

The EU has formally endorsed a series of technical standards for packaging
materials developed by European standardisation body CEN. The decision has
been published in the bloc's official journal following approval by member states.
Packaging firms can cite the standards to show compliance with a series of
'essential requirements' in EU packaging law. EU endorsement means the
burden of proof for demonstrating compliance has shifted from industry to
the regulatory authorities. CEN revised the standards last year after the
EU rejected its initial versions in 2001.
The International Iron and Steel
Institute's (IISI) Committee on
Packaging (PACKCO) has calculated
that an estimated 5.2 million tonnes
of steel cans were recycled worldwide
in 2003. This represents a weighted
recycling rate for steel packaging of
62.7%; the recycling rate for 2003 is
two percentage points higher than in
2002, and 5.2 percentage points above
that of 2001.
Packaging recycling has been a
high priority for the steel industry
and also the focus of attention for
PACKCO. 'The industry recognised
the short life-cycle for steel packag-
ing decades ago,' says PACKCO
Chairman Roger Steens. 'The indus-
try has developed the programmes
and infrastructure necessary to
ensure that steel packaging was
moved from the waste stream to the
recycling stream with ease due to
steel's magnetic characteristic.'
Recycling seven steel cans saves
enough energy to power a 60-watt
light bulb for 26 hours. 'Steel can be
recycled without loss of properties
time and time again,' according to
Mr Steens. 'This makes steel a very
sustainable solution for packaging.
Just imagine the potential savings if
all materials could be recycled at a
rate of 60% or greater.'
www.worldsteel.org
Over five million steel
cans recycled in 2003

EU studies walk an
environment
and market tightrope

EU government representatives
have been presented with draft
results of two major studies on the
implementation of the bloc's Directive
on Packaging Waste.
The Ecolas/Pira and Perchards
studies tackle some of the longest-
standing and most politically charged
issues surrounding the EU's packag-
ing policy, notably prevention and
reuse. Both have excited intense
stakeholder interest as their conclu-
sions have begun to emerge in recent
months. The studies were ordered by
the European Commission, which
must submit an official report this
year on the implementation of the
directive following a mini-revision in
2003. This set higher packaging
recovery and recycling targets while
shelving other issues, such as
demands for an EU 'packaging envi-
ronment indicator'.
The reports appear to lean more
towards established industry posi-
tions rather than those held by envi-
ronmentalists. Much will depend on
how the European Commission
incorporates the consultants' analy-
sis into its report to the Council of
Ministers and European Parliament
in the autumn.
The Ecolas/Pira report on the law's
environmental impact concludes that,
in general, packaging waste preven-
tion targets have not had a significant
effect since packaging consumption
has risen with GDP across Europe.
The study also states that enforce-
ment of the directive's essential
requirements has been so low that it
is not possible to assess environmen-
tal benefits. Market surveillance of
the requirements should be stepped
up, the report concludes. This has
been a long-standing plea of Europe's
packaging lobby group Europen.
Furthermore, the study finds that
recovery and recycling of packaging
among the EU's established 15
member states has boosted employ-
ment and benefited the environment
through, for example, reduced
greenhouse gas emissions. These
benefits have been achieved at a lim-
ited cost estimated to be 4% of the
packaging industry's turnover.
According to the report, over 90% of
this activity would have happened
without the directive: only 8% of
packaging waste diverted from land-
fill and only 9% of packaging recy-
cling can be linked to EU legislation,
it is claimed.