April 2005
Subscribe
N E W S Recycling International • April 2005 The International Iron and Steel Institute (IISI) and 11 of its member companies have agreed on a pro- gramme designed to increase the use of steel in construction applications by up to 10% o...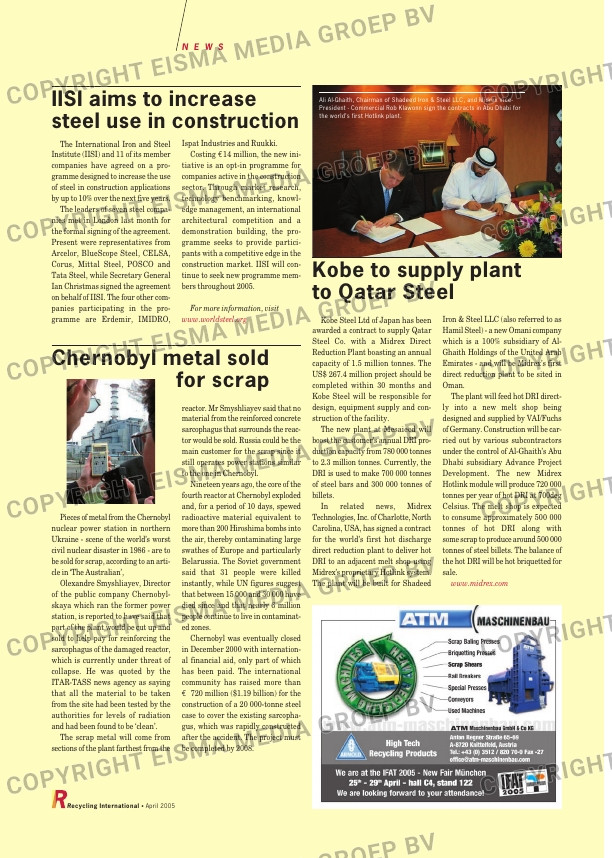 N E W S

Recycling International • April 2005
The International Iron and Steel
Institute (IISI) and 11 of its member
companies have agreed on a pro-
gramme designed to increase the use
of steel in construction applications
by up to 10% over the next five years.
The leaders of seven steel compa-
nies met in London last month for
the formal signing of the agreement.
Present were representatives from
Arcelor, BlueScope Steel, CELSA,
Corus, Mittal Steel, POSCO and
Tata Steel, while Secretary General
Ian Christmas signed the agreement
on behalf of IISI. The four other com-
panies participating in the pro-
gramme are Erdemir, IMIDRO,
Ispat Industries and Ruukki.
Costing €14 million, the new ini-
tiative is an opt-in programme for
companies active in the construction
sector. Through market research,
technology benchmarking, knowl-
edge management, an international
architectural competition and a
demonstration building, the pro-
gramme seeks to provide partici-
pants with a competitive edge in the
construction market. IISI will con-
tinue to seek new programme mem-
bers throughout 2005.
For more information, visit
www.worldsteel.org

IISI aims to increase
steel use in construction

reactor. Mr Smyshliayev said that no
material from the reinforced concrete
sarcophagus that surrounds the reac-
tor would be sold. Russia could be the
main customer for the scrap since it
still operates power stations similar
to the one in Chernobyl.
Nineteen years ago, the core of the
fourth reactor at Chernobyl exploded
and, for a period of 10 days, spewed
radioactive material equivalent to
more than 200 Hiroshima bombs into
the air, thereby contaminating large
swathes of Europe and particularly
Belarussia. The Soviet government
said that 31 people were killed
instantly, while UN figures suggest
that between 15 000 and 30 000 have
died since and that nearly 6 million
people continue to live in contaminat-
ed zones.
Chernobyl was eventually closed
in December 2000 with internation-
al financial aid, only part of which
has been paid. The international
community has raised more than
€ 720 million ($1.19 billion) for the
construction of a 20 000-tonne steel
case to cover the existing sarcopha-
gus, which was rapidly constructed
after the accident. The project must
be completed by 2008.
Pieces of metal from the Chernobyl
nuclear power station in northern
Ukraine – scene of the world's worst
civil nuclear disaster in 1986 – are to
be sold for scrap, according to an arti-
cle in 'The Australian',
Olexandre Smyshliayev, Director
of the public company Chernobyl-
skaya which ran the former power
station, is reported to have said that
part of the plant would be cut up and
sold to help pay for reinforcing the
sarcophagus of the damaged reactor,
which is currently under threat of
collapse. He was quoted by the
ITAR-TASS news agency as saying
that all the material to be taken
from the site had been tested by the
authorities for levels of radiation
and had been found to be 'clean'.
The scrap metal will come from
sections of the plant farthest from the
Chernobyl metal sold
for scrap

Kobe Steel Ltd of Japan has been
awarded a contract to supply Qatar
Steel Co. with a Midrex Direct
Reduction Plant boasting an annual
capacity of 1.5 million tonnes. The
US$ 267.4 million project should be
completed within 30 months and
Kobe Steel will be responsible for
design, equipment supply and con-
struction of the facility.
The new plant at Mesaieed will
boost the customer's annual DRI pro-
duction capacity from 780 000 tonnes
to 2.3 million tonnes. Currently, the
DRI is used to make 700 000 tonnes
of steel bars and 300 000 tonnes of
billets.
In related news, Midrex
Technologies, Inc. of Charlotte, North
Carolina, USA, has signed a contract
for the world's first hot discharge
direct reduction plant to deliver hot
DRI to an adjacent melt shop using
Midrex's proprietary Hotlink system.
The plant will be built for Shadeed
Iron & Steel LLC (also referred to as
Hamil Steel) – a new Omani company
which is a 100% subsidiary of Al-
Ghaith Holdings of the United Arab
Emirates – and will be Midrex's first
direct reduction plant to be sited in
Oman.
The plant will feed hot DRI direct-
ly into a new melt shop being
designed and supplied by VAI/Fuchs
of Germany. Construction will be car-
ried out by various subcontractors
under the control of Al-Ghaith's Abu
Dhabi subsidiary Advance Project
Development. The new Midrex
Hotlink module will produce 720 000
tonnes per year of hot DRI at 700deg
Celsius. The melt shop is expected
to consume approximately 500 000
tonnes of hot DRI along with
some scrap to produce around 500 000
tonnes of steel billets. The balance of
the hot DRI will be hot briquetted for
sale.
www.midrex.com

Ali Al-Ghaith, Chairman of Shadeed Iron & Steel LLC, and Midrex Vice-
President – Commercial Rob Klawonn sign the contracts in Abu Dhabi for
the world's first Hotlink plant.
Kobe to supply plant
to Qatar Steel