Canada – Three Canadian companies, including Electronics Recycling Canada, are under investigation for the unlawful export of electronic waste, reports 'The Vancouver Sun'. The alleged actions would constitute a violation of the Basel Convention, which controls the export of e-scrap to developing countries.
According to the newspaper, government body Environment Canada began investigating PC Max Computers and E-Tech Management after Hong Kong rejected two shipping containers with waste batteries and waste flat-panel displays.
The two companies, which each had a container rejected, maintain that the shipments were not destined for unsafe recycling. Neither has been charged with a crime, the newspaper reports. British Columbia'€™s Electronics Recycling Canada, however, has been charged with unlawful export of hazardous recyclable material, according to the report.
'The Vancouver Sun' and the Basel Action Network watchdog group collaborated on an investigation into Vancouver's recycling trade during which one of the newspaper's reporters talked with a representative of E-Tech Management about e-waste shipments. The conversation was recorded and filmed using a hidden camera.
To view the video, click here: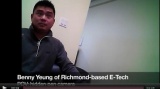 Would you like to share any interesting developments or article ideas with us? Don't hesitate to contact us.