The Netherlands – Suppliers, buyers and other business partners from all over the world travelled to the Netherlands yesterday to celebrate the 100th anniversary of Reukema Recycling, one of the biggest non-ferrous scrap exporters in the country. Some 400 guests gathered at the company'€™s headquarters and main facility in Harderwijk, which has direct access to major waterways connecting to the Port of Rotterdam. In the open air, surrounded by sea containers and mountains of copper and aluminium scrap, invitees enjoyed drinks, delicious food and some stunning pieces of scrap art.
'It is an honour to be here and to celebrate this milestone together with our friends', Anil Kumar Sharma of Mumbai, India based ACE Metals told Recycling International. Ralf Schmitz, managing director of the German non-ferrous trade association VDM was among the many German guests.
'Reukema has been a member of our association for a long time. And when a member turns 100, it is a great joy to come to their party and wish them the very best for the future', he said.
A Euro 400 million turnover company involved in scrap metals and paper recycling, Reukema is among the biggest non-ferrous scrap recycling and trading businesses in the Netherlands.
In 2016, Reukema handled a total of around 225 000 tonnes of non-ferrous scrap. Reukema is supplied by some 700 scrap companies and collectors scattered across the Netherlands, Belgium, Germany and France. Reukema has offices in Germany and the UK as well as in China, the USA and Nigeria.
Some 70-80% of the scrap is exported to customers in Asia, mainly China followed by India and other Asian markets.
A frontrunner
In 100 years, Reukema has developed from a small scrap firm into a modern and innovative non-ferrous scrap recycling company, driven by data rather than gut feeling. Reukema has managed to stay strong in rough markets, primarily by reinventing itself over and over again.
'We continuously work on making our processes smarter in order to be prepared for a future in which profit margins may well be even smaller than they are today,' the company's ceo Henry Staal told Recycling International in 2016.
Proof of this ambition to stay innovative, is Reukema's online delivery booking system. Like airports do with airliners, Reukema uses time slots.
Trucks loaded with scrap arrive at their doors according to a tight schedule on which the companies can prebook a certain delivery time. This has made an end to queues; trucks can be on the road again in no time. Browse the gallery!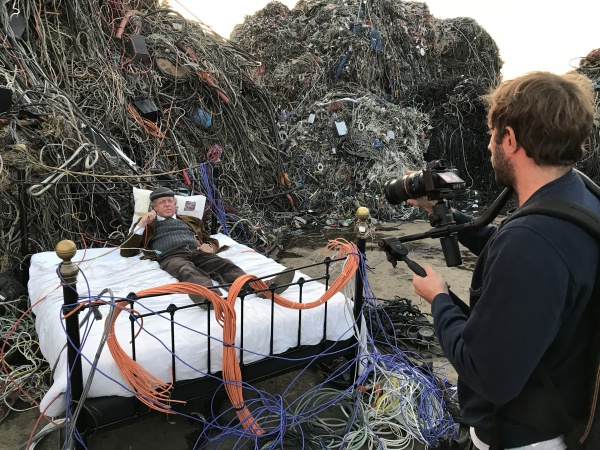 "Time to get up and recycle!" – performance art at the scrap yard.
Barbie, the copper scrap edition.